.............................................
STUDI

Diploma di Maturità d'Arte Applicata(Comunicazione visiva – grafica pubblicitaria e fotografia) c/o l'Istituto Statale d'Arte di Monza. Dal 1990 al 1993 frequenta la facoltà di Lettere moderne all'Università Statale di Milano dove effettua approfonditi studi di storia dell'arte, storia del teatro e letteratura. Dal 1993 al 1995 si trasferisce in Toscana dove consegue l' Attestato di Maestro Orafo c/o l' Istituto Margaritone di Arezzo. Nel 1995 segue il "Corso Sperimentale Bijoux" c/o il Centro Formazione Professionale di Firenze. Nel corso della sua permanenza in Toscana approfondisce alcune tecniche orafe antiche quali lo sbalzo e il cesello con l' orafo - scultore Carlo Badii con il quale si confronta costantemente tuttora.
PROFILO PROFESSIONALE

La sua esperienza spazia in diversi ambiti. Inizia in un laboratorio di allestimenti dove realizza pitture e decorazioni scenografiche. Svolge attività di vendita per il gruppo Rinascente e per alcune gioiellerie. La sua passione per la fotografia la porta ad avere diverse esperienze e ad effettuare numerosi studi fino a fondare un gruppo fotografico di cui è il Presidente per alcuni anni e con il quale partecipa ed organizza mostre e concorsi. Fotografia, teatro, arte e cinema… sono preziose "muse" ispiratrici che influenzate dalla sua creatività eclettica traducono immagini e pensieri in oggetti preziosi. Dal 1994 inizia a collaborare con studi di design e modelli orafi, laboratori artistici e ateliers. Il suo percorso unito ad un' esperienza lavorativa oggi più che decennale nella progettazione e realizzazione di gioielli dà inizio ad una serie di studi e ricerche personali che diventano gioielli unici o in limited edition. Le conoscenze acquisite sul campo le permettono di realizzare edizioni speciali, di luxury design e di gioielli personalizzati. Su richiesta del committente segue l' evoluzione globale della realizzazione del gioiello, dalle valutazioni del mercato, alle ricerche stilistiche fino al prodotto finito. Collabora e si confronta costantemente con diversi artigiani ed artisti. Dal 2006 espone i suoi gioielli in diverse gallerie d'arte e moderni show rooms sia in Italia che all' estero. Le sue creazioni sono presenti anche in importanti fiere del settore orafo come "Vicenzaoro Choise - Design Time - new inspiring creations.

MOSTRE

2008
"Contatti" Mazzoleni Art Gallery, Alzano Lombardo (BG).
"Gioielli ad arte" galleria Fatto Ad Arte (direttore artistico Ugo La Pietra), Monza
CONCORSI

2006
"Who's the next" Vogue Gioiello
2007
"Odori e sapori della cucina italiana" V Concorso Ad Arte, galleria Fatto Ad Arte di Monza
2008
"Souvenir di …." VI Concorso Ad Arte, galleria Fatto Ad Arte di Monza
PUBBLICAZIONI

2009
"Il Cittadino" settimanale locale Monza e Brianza (10 Dicembre),intervista e foto sue creazioni
2009/2010
"18 Karati" Ed. Gold Milano (Dicembre/Gennaio) presentazione suo profilo e sue creazioni
* * *

.............................................
EDUCATION

Diploma in Applied Arts (Communication and Visual – advertising, graphics and photography) at the "Institute of Art " in Monza. From 1990 to 1993 she attends Modern Letters at the University in Milan where she studies history of art, theatre and literature. In 1993 she moves to Tuscany and during the following two years she gets the Certificate of Goldsmith Master at the "Institute Margaritone" in Arezzo. In 1995 she attends the course of "Experimental Bijoux" at the Professional Centre in Florence. During the period spent in Tuscany she studies and develops some antique techniques about the jewel modeling such as chisel and engraving in co-operation with the goldsmith and sculptor Carlo Badii.

PROFESSIONAL PROFILE

Her experience covers different environments. She starts in a laboratory by setting up scene-paintings and stage-decorations. She is employed at the Rinascente Group and in different jewelleries like retailer. Her passion for photography allows her to be one of the founder of a group of which she has been president for some years. She plans photographic exhibitions and programmes. Photography, theatre, art, cinema are precious "inspirational muses" which are influenced by her eclectic creativity and can help convert images and thoughts into jewels. Since 1994 she starts to co-operate with some design studios, goldsmiths, laboratories and ateliers. In conjunction with the education and studies, her decennial working experience in the jewel project and design gives strength to a series of studies and personal researches which culminate into the creation of unique pieces. For custumer request she supervise globally the jewels realization from the market research, the mood to the final product. The know-how and capabilities allow her to create limited editions, luxury design and personalized jewels. Her works reflect the global spirit looking at the future and experience coming from the comparison with contemporary craftsmen and artists with a look to the past. In 2006 she puts on displays some her realizations in art galleries and modern show rooms in Italy and abroad. Her jewels are present at the most important fairs such as "Vicenzaoro Choise -Design Time – new inspiring creations".
EXHIBITIONS

2008
"Contacts" Mazzoleni Art Gallery, Alzano Lombardo (BG).
"Gioielli ad arte", Fatto Ad Arte Gallery (Artistic Director: Ugo La Pietra), Monza
COMPETITIONS

2006
"Who's on the next", Vogue Jewel, Milan
2007
"Perfumes and Tastes in the Italian kitchen", 5th Art Exhibition, Fatto Ad Arte Gallery, Monza (Milan)
2008
"Souvenir of …." 6th Art Exhibition, Fatto Ad Arte Gallery, Monza

PUBLICATIONS

2009
local newspaper "Il Cittadino"(10 December issue) interview, photos of her creations
2009/2010
The magazine "18 karati" Ed. Gold, feautures and some of her designs (December/January issue)
* * *

"CYBERSPACE" Anello in platino e Rubini
Platinum ring with ruby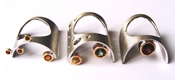 "UNSTABLE"set di anelli in platino satinato rubini e smeraldi
Ring set with platinum brush off, and yellow gold ,ruby and emerald

JAZZ Ciondolo in oro bianco e giallo patinato con rubini e smeraldi
Pendent glossy "withe and yellow gold " ruby and emerald
SLIDE" orecchini in platino metà satinato con rubini e diamanti
Earrings with platinum half brush off,and diamonds and ruby


"DAPHNE+DAPHNE" orecchini in Platino traforato e satinato, oro giallo
Earings platinum open work and brush off, yellow gold
METAMORPHOSIS Orecchini - ciondoli in oro giallo martellato
Earrings-pendents, hammer in yellow gold