STUDI
Dopo aver ottenuto la Maturità Artistica ad indirizzo "Grafico"all'Ist. Statale di Busto Arsizio frequenta presso l'ADOR, il Corso di Design del Gioiello e ottiene la qualificazione di I° e II° livello nel " Corso di Progettazione Orafa". Adeguandosi alla nuove tecnologie commerciali e produttive segue corsi di grafica e di progettazione al computer nei formati 2D e 3D .
PROFILO PROFESSIONALE
Durante gli studi artistici si è avvicinata al mondo del design orafo progettando gioielli dalle forme innovative. L'ispirazione dei volumi le viene dalla plasticità dei "corpi" dell'antica Grecia, influenzando la sua creatività in grado di passare dallo stretto rigore delle geometrie al calore della natura . Le geometrie cristalline delle gemme si espandono spesso sull'oro che le trattengono in forme infinite. Dal 2000 è Socio ADOR e partecipa a differenti iniziative:
MOSTRE
2000 - "Vicenzaoro 2-2000, l'ADOR, con il patrocinio dell'Ente Fiera di Vicenza, durante la mostra di durante l'evento "ADOR BORSA DEL DESIGN - dove, come nascono e crescono le nuove idee", presenta in anteprima la mostra itinerante "SPAZI fra ricerca creativa e design". dedicata al Design in Gold by Dessel (Design Selection ) con progetti di ricerca estetica . Vicenza -37° Mostra Internazionale della Filigrana, Museo di Campo Ligure Ge. Esposizione dei progetti per "La ricerca innovativa per un nuovo design in Filigrana" Campoligure Ge. - Sant'Angelo in Vado replica 37° Mostra Internazionale della Filigrana, Museo di Campoligure Ge. S. Angelo in Vado - " Splendori per il corpo e gioie per l'anima " esposizione presso Gioielleria Lopez , Como , mostra di gioielli e pietre preziose e progetti dei Soci ADOR. Como -L'artigiano in Fiera, ; Milano " L'Isola dei Tesori " ,by Associazione Orafa Lombarda, L'Istituto Gemmologico Italiano, l'Associazione Designers Orafi, i tagliatori di gemme Montrucchio e Rosalino, l'incisore Rolando Fabbri, hanno presentato alcune fasi salienti della realizzazione dei gioielli. Esposizione di disegni e prototipi Collettiva ADOR Milano
CONCORSI
2000 - selezionato per la mostra "Spazi fra creatività e design" Vicenzaoro2- by DESSEL e ADOR Vicenza PUBBLICAZIONI 2000 - la rivista 18Karati presenta alcuni suoi progetti Milano 2001 - catalogo Soci ADOR su Internet .
* * *
EDUCATION
After to have obtained the Artistic Maturity to address "Grafico"all' Ist. Be them of Busto Arsizio it attends near the ADOR, the Course of Design of the Jewel and obtains the qualification of I° and II° level in the "Course of Orafa Planning". Adapting itself to the new technologies it trades them and productive it follows diagram course and of planning to the computer in form to you 2D and 3D .
PROFESSIONAL PROFILE
During the artistic studies has been approached the world of the gold design, planning jewels from the innovative shapes. The inspiration of the volumes them comes from the plasticity of the "bodies" of ancient Greece, influencing its creativity in a position to passing from the strait rigor of geometries to the heat of the nature. Crystalline geometries of gems are often expanded on the gold that they withhold to them in infinite shapes. Since 2000 is ADOR's Member, and he partecipated in several events :
EXHIBITIONS
2000 - "Vicenzaoro 2-2000, the ADOR, with the sponsorship of the Agency Fair of Vicenza, during the exibition of during event" ADOR AG Of the DESIGN - where, as the new ideas are born and grow ", it introduces in preview the itinerante exibition "SPACES between creative search and design". dedicated to the Design in Gold by Dessel (Selection Design) with plans of aesthetic search. Vicenza -37° Extension International of the Filigrana, Museum of Field From Liguria GE. Exposure of the plans for "the innovative search for new a design in Filigrana" Campoligure GE. - Sant' Angelo in Vado ,retort 37° Extension International of the Filigrana, Museum of Campoligure GE. S. Angelo in Vado - "Splendors for the body and joys for the spirit" exposure near Jewelry shop Lopez, Como, exibition of jewels and precious stones and plans of Associates ADOR. Como - the "Craftsman in Fair"; Milan "the Island of the Treasures",by AOL-Association Lombarda Orafa, the IGI-Gemmologico Institute Italian, the ADOR-Association Designers Orafi, the gem cutters Montrucchio and Rosalino, the incisore Rolando Fabbri, has introduced some important step of the realization of the jewels Collective exposure of designs and prototypes ADOR Milan
COMPETITIONS
2000 - selected for the exibition "Spaces between creativity and design" Vicenzaoro2- by DESSEL and ADOR Vicenza PUBLICATIONS 2000 - the review 18Karati introduces some its plans Milan 2001 - catalogue Associates ADOR on Internet.
* * *
ciondolo prototipo in cera
pendent wax prototipe

anello in oro giallo e perla
jellow gold ring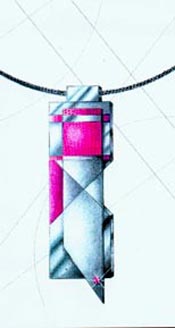 pendente "Mazzinga"
pendent "Mazzinga"

anello in platino ed onice
platinum and onix ring
collana in platino e perle
platinum end pearls neclace